Climbing the steep stone path that winds its way up to Osaka Castle you can't help but imagine how intimidated the ancient Japanese samurai warriors must have felt as they approached the massive studded gateway.
Osaka Castle is in fact a modern replica of the original one that was built by Toyotomi Hideyoshi in the 16th century and later destroyed by fire. This model was built in 1931 and now houses a modern museum but is still well worth a visit.
The castle is set in a large park in the city centre and can best be reached by the Tanimachi Subway Line and Chuo Subway Line. The nearest station to the Otemon Gate is Tanimachi 4-chrome Station.
The park itself is well set out with grassy lawns and beautiful shrubs and trees. The Castle building is surrounded by sheer stone walls and wide moats, and on a fine day the reflections cast in the water are a beauty to behold. As you cross the bridge over the moat look down into the waters and you might well spot some colorful orange and gold koi carp and little terrapins circling below. Not surprisingly, the castle grounds are an extremely popular for spot for the cherry blossom viewing in the spring time.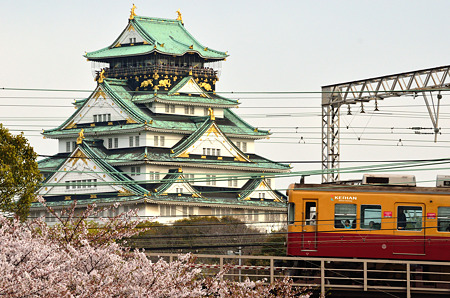 大阪城下を行く京阪特急 posted by (C)Gya-tei
The castle building is 5 stories high but has 8 floors inside where the modern day museum is housed. Several floors are devoted to telling the history of Japan through modern day technology using holograms, 3D pictures and a film theatre. There are also lots of interesting displays of artifacts, armour and weapons with descriptions written in English as well as Japanese and Korean.
On the first floor for a small fee you can have great fun dressing up as samurai. There is a plentiful supply of kimonos, surcoats, helmets and swords for you to try on.
At the very top is an observation deck where you can get a closer look at the huge gilded dolphins that decorate the roof, as well as gain a panoramic view of the park surrounded by the high rise buildings of central Osaka.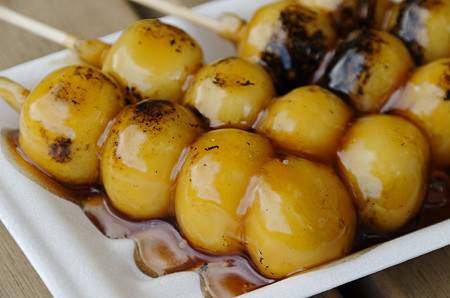 み・た・ら・し♪ posted by (C)さちどん(だららんと展開中)
When you have had your fill of history you can visit the small souvenir shop to buy a memento of your visit. Afterwards you can stroll in the park or perhaps from one of the numerous food stalls you can buy Dango which skewered rice dumplings in a sweet soy glaze and some delicious Takoyaki, a snack made from octopus fried in batter and dipped in takoyaki sauce.
Address: 1-1, Osakajo, Chuo-ku, Osaka City,Japan, 540-0002
Telephone Number: +81-6-6941-3044
English Website URL: http://www.osakacastle.net/english/
Japanese Website URL: http://www.osakacastle.net/
Shop Holiday: 28th December to 1st January .
How to access
Route from Shin-Osaka Station to Osaka Castle
JR Tokai line to Osaka station. And you can get JR Osaka loop line(Outer loop) to Osakajo koen station.
Entrance Fee: Adult: 600,15 years old and younger: free
Location